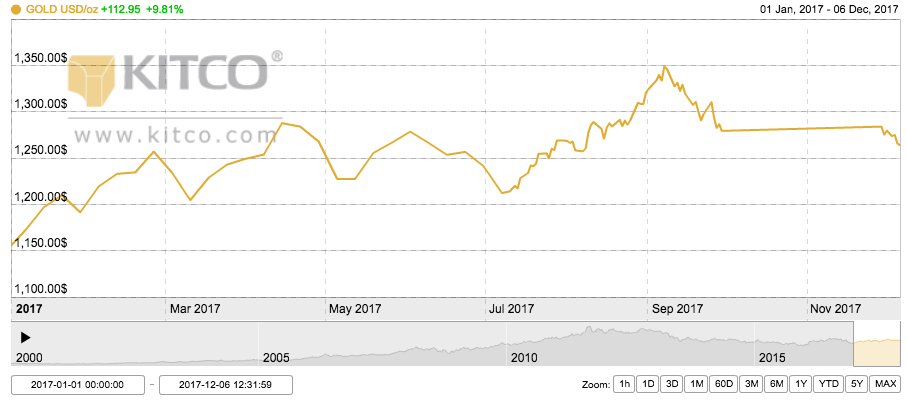 The gold price has gained almost 10 percent since January, despite performing with volatility during the year. In August, the yellow metal broke $1,300 per ounce, although prices have pulled back since then.
As the year comes to a close, the Investing News Network is looking back at the main gold trends this year, from the impact of US Federal Reserve interest rate hikes to widespread geopolitical uncertainty.
Read on to learn what happened in the gold market in 2017, from the key supply and demand dynamics to how analysts thought the market performed in every quarter of the year.
Gold's price performance from January 1, 2017 to December 6, 2017. Chart via Kitco.
Gold trends Q1: Trump uncertainty drives prices
The gold price made its eighth Q1 gain in 10 years in the first quarter of 2017, buoyed by safe-haven demand from anxious investors.
Concerns about US President Donald Trump and anticipated rate hikes from the Fed caused worries, as did the Brexit process and European elections. All of those factors combined in the first three months of the year to drive the yellow metal's price.
"The fear trade has driven the market so far this year," David Govett of Marex Spectron said at the time.
In terms of demand, Thomson Reuters GFMS expected physical gold demand to potentially increase later in the year due to political uncertainty and tension across the globe.
"We are expecting a reduction in global mine output and a gradual demand recovery globally in 2017, resulting in a smaller surplus than in 2016 but a large one nonetheless," GFMS noted early in 2017.
During Q1, many analysts predicted a bright year for gold, and gold stocks in particular.
"The gold price is looking pretty stable right now, and the gold stocks have really come down relative to the gold price over the last five Continue Reading